This month on Taste Life Twice we are featuring authors taking risks to get their creative projects out into the world. As those of you on the Subscriber List know, I am in the process of curating an online "Creative Efforts" gallery here on TLT. Contact me if you'd like to be included.
This is the second interview of the series. For a peek at the 'inspirational dark fantasy' genre piece, check this one out.
In this interview, we hear from first-time author Liz Lee, who has just self-published her children's book, All Winged Creatures Were Meant to Fly.
I met Liz while in my 9-5 job in the Big City, but as you'll see, she's found a way to balance both the strait-laced side and the funky side of her personality.
MP: I know you've got several creative pistons firing, so how did you get the idea for this medium, this genre, this story?
LL: I've been to Istanbul several times over the past few years, and each time I've fallen in love anew with the romance and rich history of the city. The last time I was there, I was in an alley behind the Egyptian Spice Bazaar, in an older part of Istanbul. The alley was full of animals of all shapes, sizes and even utilities – there were birds, cats, mice, and even leeches for medicinal purposes.
At the very far end of the alley there was a store that only had one cage, which held a very sad, beautiful bird. I immediately thought…"what if this caged bird met a wild bird…" and the seeds for a children's story were born.
I know that children's books that facilitate developmental skills are pretty popular right now, but I am pretty old-fashioned and have been pining for something similar to The Giving Tree* or The Velveteen Rabbit* – a fairy tale with a message that I could also read to my own children some day.
MP: I think you've created the book you're looking for, which is awesome! Next: Often writers must contend with the solitary nature of writing, but here you have a partner who you worked with- an illustrator. How did you make that decision, find the right partner, and work with each other to make the book so fluid?
LL: After I wrote the manuscript, I realized I had no idea how to find an illustrator. I wish I could say that it was more purposeful than just serendipity, but I found Jehanne through a freelance creatives website, Guru.com.
I honestly thought maybe one person would answer my advertisement – but I was flooded with inquiries and portfolios, to my great surprise. Jehanne had the most experience working with children's books, and her art "called" to me the most. She's done a beautiful job bringing the book to life.
My contribution was trying to give her very clear guidance of what I wanted. I had concrete ideas of what types of images and aesthetic I wanted for the book. We developed a very good working relationship within the three months we worked together, and I can't imagine having worked on it with anyone else.
MP: Sounds like a very positive collaborative experience. Now, what pieces in the book do you feel speak to your own life experiences the most?
LL: I think for many people, nothing symbolizes freedom more than flight and the act of flying. The theme of the book is undoubtedly freedom, and the act of freeing oneself. Everyone has to overcome a great fear at some point, which when finally conquered bought them a great freedom.
I promise you, that even if you had the help of your family and friends, those last final steps of overcoming that great fear and freeing oneself – whether from a bad habit, an addiction, a bad relationship, the fear of coming out, etc. – can only be walked by yourself.
Yes, they can be scary, hard and lonely. But then, you realize you can fly! And, more importantly, that you did it on your own.
MP: Finally, is there a theme or a lesson you hope children and/or adults will draw from reading the book?
LL: I hope both adults and children are inspired by the story, enjoy the pictures and want to visit Istanbul one day! In particular, a small alley behind the Egyptian Spice Market…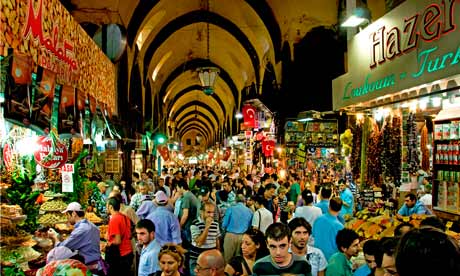 Thanks to Liz for stopping by with her inspiring stories- both the children's story, and her own journey to creating it!
Stay tuned for one more author in July… she's a hot one! 😉
And don't forget to comment below if Liz's book speaks to your experience…
Images belong to Liz Lee and The Guardian
*Please note these are affiliate links to Amazon.com. This means if you click through and purchase something from Amazon, I receive a few cents. Thanks for supporting those pursuing their dreams in any way possible!